Move With Confidence – Our Guarantee!
Every effort is made to ensure that your transportation needs are met without a hitch. Measures such as Goods in Transit insurance and Tradesafe are designed to protect you and your assets from the unpredictable. At Goload we understand that sometimes things can still go wrong. We want to provide the ultimate peace of mind. Which is why we go one step further to provide our Goload Guarantee.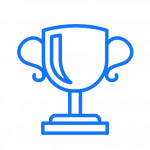 Our Goload Guarantee
In the event that your chosen transport provider fails to turn up within one hour of the agreed pick up time on the stipulated date, we will endeavour to source you another provider at the same rate within two hours. If we are unable to fulfill your requirements, Goload offers you a Full No-Show Refund on transportation fees you may have been charged – this is our Guarantee to you!
As a transport customer, you may choose to pay these fees in one of two ways. Either, you may pay a booking fee deposit via the website upon acceptance of your bid, with the balance being paid directly to the transport provider once the transport agreement has been concluded, or you may make a full upfront escrow payment. No matter what payment option you prefer, our Full No-Show Refund Guarantee will apply.